GENIUSFORMS™
Integrated patient forms with writeback.
GeniusForms™ offers writeback functionality and advanced tools that streamline the process of gathering patient information. These forms are designed to be versatile, efficient, and user-friendly. They can be integrated into messaging enabling seamless communication between you and your patients.
DEVELOPED TO BENEFIT YOU
WHY USE GENIUSFORMS™?
GeniusForms™ delivers substantial time savings for your dental administrative teams, streamlining productivity and workflow procedures while simplifying labor-intensive tasks. It also helps minimize the potential for human errors on critical dental forms, including vital medical history documents.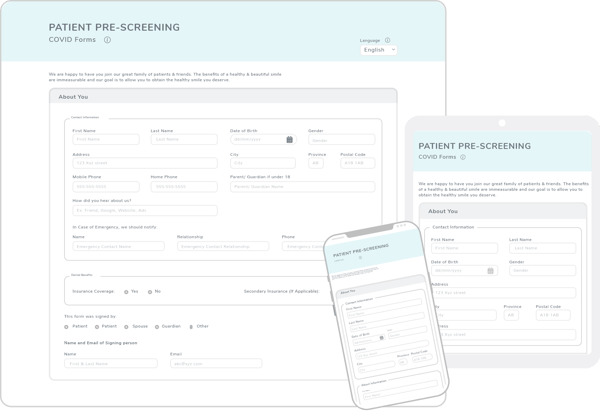 UNLIMITED FORMS. UNLIMITED SUBMISSIONS.
WHAT YOU GET WITH GENIUSFORMS™

Form Writeback
Real-time updates and seamless synchronization between forms and your scheduling software. Ideal for new patient and medical history forms. Saves your admin team from manual data entry.

Pre-Populated Forms
Automatically populate certain fields in the form with existing patient information held in your system. This helps reduce the time and effort of the patient filling out the information you already have.

Dynamic Fields
GeniusForms™ has the ability to add tooth numbers, provider names, and appointment info to a form prior to sending it out. This creates a much better patient experience when they complete the form.

Medical Note Updates
All your important information can be automatically exported into the patient note fields to save your dental admin team time and effort from manual data entry.

Auto-Cycle Forms
Configure forms to auto-trigger at a selected interval such as regular medical history updates. With a fully automated process, your patient database will remain up-to-date.

Kiosk Forms
In-office tablet-based form completion for check-in desk or kiosk. Ideal for those patients without access to digital forms. Just scan the QR code, and complete the form.
BOOK A DEMO
SEE IT FOR YOURSELF
Complete the form to be pre-booked for a demo. Demo's start September 25th.