AUTOMATE PATIENT REVIEW REQUESTS
Turn each patient appointment into an online review through the power of automation. Through automated review requests, you can effortlessly prompt patients to share their feedback as soon as they complete their visit, ensuring a hassle-free and convenient experience for them.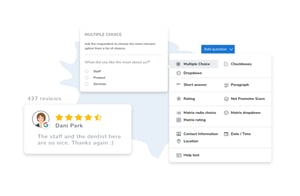 MULTIPLE PLATFORMS, ONE DASHBOARD
Monitor all your reviews from one screen and never miss a chance to respond to feedback. Whether it's Facebook, Google, or Yelp, reputation management has never been so easy.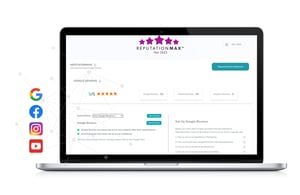 ALL EYES ON YOUR PRACTICE
Online reviews play a crucial role in enhancing your practice's online visibility. Not only do they contribute to improved SEO and Google rankings, but here's an interesting fact: a positive online reputation is the best way for acquiring new patients.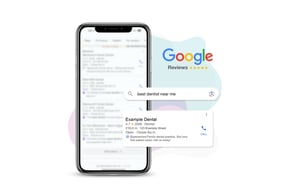 TAKE CHARGE OF YOUR ONLINE REPUTATION
Never let valuable feedback slip through the cracks. Make a lasting impression by promptly responding to feedback across multiple platforms. Automate replies to ensure no feedback goes unnoticed.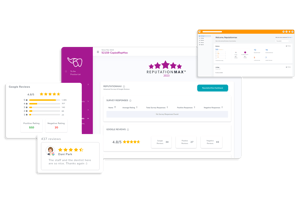 BOOK A DEMO
SEE IT FOR YOURSELF
"
It's been going very well with the reputation max. It has helped us get more Google reviews already. Thank you for pushing me out of my comfort zone and talking me into trying it. I appreciate all of your suggestions and expertise.
"
FREQUENTLY ASKED QUESTIONS
What review platforms are compatible?
ReputationMax® is compatible with major review platforms such as Google and Facebook. It also connects all your social platforms, such as Instagram.
Will I lose my existing Google reviews?
No. You will keep all previous reviews.
How can I generate more reviews?
Boosting online reviews for your practice can be achieved through various methods. However, with ReputationMax®, we encourage you to take advantage of automated review requests for each patient, ensuring you receive a higher volume of valuable feedback.
Can I customize automated replies?
Absolutely! In fact, you have the flexibility to create multiple reply templates and establish criteria for each star rating. This ensures that your automated responses remain highly relevant to every review you receive.